Ospreys. Ospreys everywhere
The weather changed, and all of a sudden birds are returning. It's getting busy…
That was one heck of a week. If it carries on like this, I will be doing multiple issues a week…
Let's start with my "home" nest.
Loch Arkaig
The Woodland Trust nest in Scotland was my gateway to the world of ospreys, so I am delighted to report that Louis is back. He was lonesome at first, as Alia didn't return straight away, but he's been busy getting the nest ready: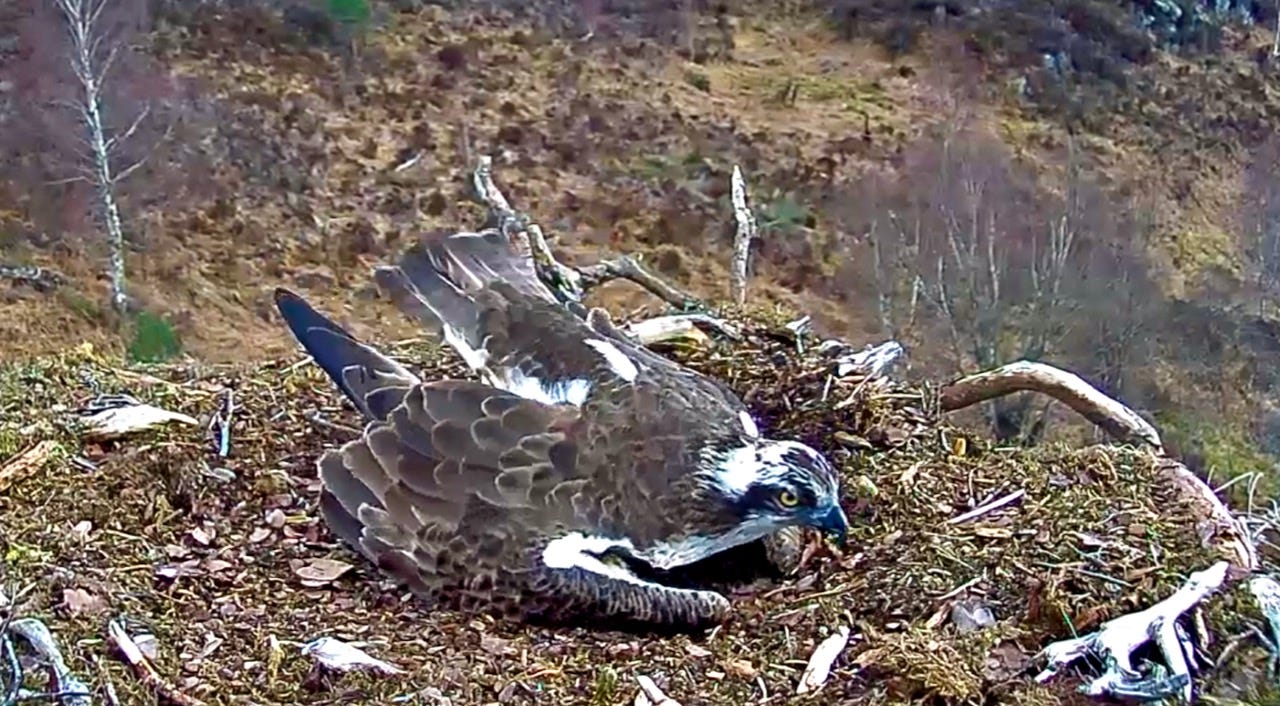 Happily, on Monday morning, just before I pressed "send" on this, Alia arrived: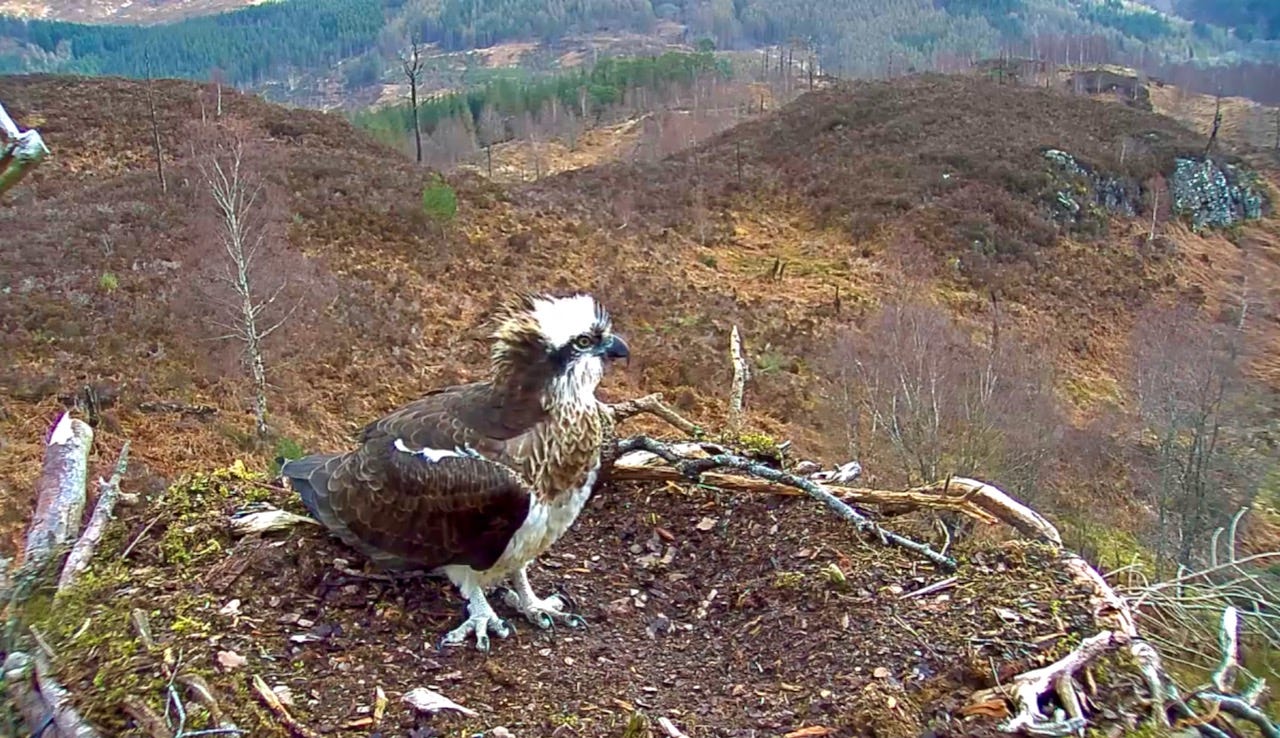 Manton Bay
Our star couple, Maya and 33, are being disturbingly quiet and adult. They've had two eggs, are busy incubating them, while we wait for a third, and they work on creating it.
All in all, seriously lacking in drama. Luckily, there's plenty of drama to be found elsewhere.
For example…
Llyn Clywedog
This nest has been a hive of osprey activity this year. Blue 24 spent a little while there, but she is now happily occupied elsewhere (see later on). Then, who should surface but Blue 5F? She's been hanging around on the nest for some days now. Initially, she was visited by Tegid, a 2016 male from Dyfi, whom she appeared to be bonding with last year. But, as it turns out, the resident male, Dylan has returned, and has been getting cozy with Blue 5F, including some mating. The resident female - Delyth - is a little late, but could yet return.
Oh, and Telyn from Dyfi decided to pop by the nest on Sunday, triggering mantling from Dylan and Blue 5F.
Do we have a new settled pair? Or is there drama ahead? It all depends on what happens with Delyth, Tegid and maybe even Monty… But then, Telyn has her own distraction this year.
Glaslyn
Talking of Tegid, last year he was a persistent intruder at Glaslyn, leading to an epic battle with the resident male Aran — who has just returned this year. The venerable Mrs G seemed delighted to see her mate back:
The two are happily mating and bonding. For now, this is a happy and quiet nest.
Loch of the Lowes
With Lassie nearly two weeks overdue now, resident male Laddie and new female NC0 are bonding more securely. This 2016 bird from Loch Ness shows every sign of being a first time breeder, not yet quite sure what to do. This could be a hair-raising year as she learns on the job…
It's already been a nest-raising year, as a gust of wind undid much of Laddie's nest work earlier in the week:
And NC0 is learning the art of nest defence after several intrusions from an unringed bird:
Kielder
While the lockdown is preventing monitoring of some nests, the ones whose cameras can be accessed remotely are filling up. Nest 6 has both its residents back and ready to breed. And Nest 1A's breeding pair was completed by the return of Mrs YA on Sunday.
Dyfi
A difficult start to the week at Dyfi, as the staff were furloughed due to the coronavirus crisis.
But happier news later in the week, as Telyn arrived safe and well.
No Monty yet, but on Sunday a young, unringed male started hanging around. He's a handsome chap - and he can fish, to boot: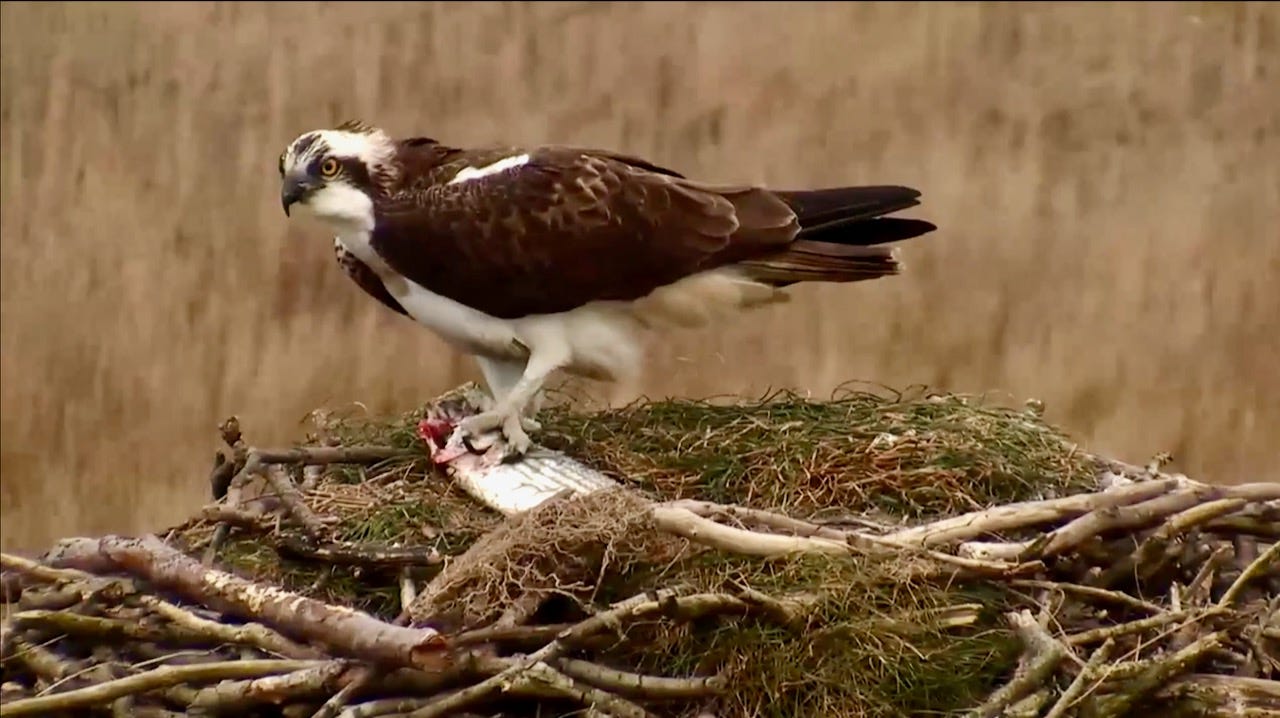 Still plenty of time for Monty to return, and we're still within his usual return window, but nice to see such a strong young male around, too.
Telyn is yet to be convinced. His attempts to mate were firmly rejected. Fish before oats, young man. That's the rules…
By Monday morning, things were looking very different. The young pretender brought sticks and moss a'plenty, and then a fish for Telyn. She dropped it - but was sufficiently impressed to allow several successful matings.
It's hard not to warm to this impressive young male. But there's trouble ahead of Monty comes home.
Other Nests
Tracked Migrations
An Obituary
Osprey ringer and campaigner Ciril Ostroznik passed away, and a lovely obituary of him was posted.
A Movie
An 1970s Osprey documentary is now available to watch for free on the Poole Harbour site.
And Finally…
This was sent to me by one of my former students, Charlotte: